OCD SoCal FREE virtual event
Posted on Oct 1, 2022
We are excited to announce that OCD Southern California will be holding a FREE, virtual, interactive educational event on Saturday, October 15th from 11am to 1pm PST. This event is virtual and open to anyone, from anywhere! OCD Awareness Week 2022 is from Sunday, October 9th to Saturday, October 15th, and is an opportunity for everyone to learn about what OCD is and how to treat it!
This special October event is being presented by OCD Southern California, an official affiliate of the International OCD Foundation (IOCDF). Additional information and a Zoom link to join the event will be sent out by email over the next few weeks! If you have any questions or are not a current member, contact info@ocdsocal.org to be added to the list of attendees.
Thank you,

OCD Southern California Board of Directors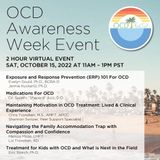 Event flyer description: OCD Awareness Week Event, 2 hour virtual event, Sat October 15 at 11am-1pm PST.
"Exposure and Response Prevention (ERP) 101 For OCD"
presented by Evelyn Gould, Ph.D., BCBA-D and Jennie Kuckertz, Ph.D.
"Medications For OCD"
presented by Dr. Sepehr "Sheperd" Aziz, D.O.
"Maintaining Motivation in OCD Treatment: Lived & Clinical Experience"
presented by Chris Trondsen, M.S., AMFT, APCC and Shannon Switzer, Peer Support Specialist
"Navigating the Family Accommodation Trap with Compassion and Confidence"
presented by Melissa Mose, LMFT and Liz Trondsen, RD
"Treatment for Kids with OCD and What is Next in the Field"
presented by Eric Storch, Ph.D.